The Duke is dead. Long live the Duke.
TL;WR for November 16 through November 22 2021
What to do.
Tuesday, November 16
Are you an educator, youth or social worker or someone hoping to start a GSA (Gay-Straight Alliance) at your school? Check out OK2BEME's GSA 101 webinar from 3:30-4:30 pm.
The Friends and Neighbours Group at Laurier presents "In Conversation with Mike Downie and Bob Watts of the Gord Downie & Chanie Wenjack Fund" at 6:30 p.m. Inspired by Chanie Wenjack's story and Gord Downie's call to build a better Canada, the Gord Downie & Chanie Wenjack Fund aims to build cultural understanding and create a path toward reconciliation between Indigenous and non-Indigenous peoples. Downie and Watts will discuss the organization and its programs, which are fostering reconciliation efforts from coast to coast.
Yeah, tacos are cool. But have you ever had tapas at Red House?
Wednesday, November 17
TWB Brewing's Chef Rob is teaching you how to make Vegetarian Chili and Cornbread Muffins in their Cooking With Beer virtual cooking class. Wednesday, Nov. 17 at 6:30 pm.
Happy 40th birthday Full Circle Foods! Celebrate with deals from some of their long time vendors and RSVP to their event for a chance to win a gift basket!
Thursday, November 18
uxWaterloo presents UX research and design in an age of remote work at 12 pm.
The Kitchener Waterloo Art Gallery has a Walk The Talk guided tour from 6-7 pm. Join them for a free tour facilitated by a KWAG Artist Educator. Learn more about their current exhibitions, ask questions, and share your insights with others.
Wilfrid Laurier University hosts Indigenize Trans Day of Remembrance at 5pm. The event is part of their 2021 Fall Indiqueer & Gender Diverse Speakers Series.
Centre in the Square has a one time only virtual show featuring multi-Juno Award nominee Julian Taylor featuring special guests Tom Wilson, Terra Lightfoot, Moscow Apartment, Amanda Rheaume, Mikhail Laxton, KUNLE, and Dione Taylor.
Tapestry Hall has Mattie Leon & Wayley live starting at 8 pm.
Descendants Beer & Beverage has Country Music bingo at 8 pm with BeccaHosts!
The Rich Uncle Tavern has Rolling Stones Trivia starting at 6 pm. Prizes include tickets to Unzipped at THEMUSEUM and please for the love of all that is good and decent in this world, there better be a question about Mick Jagger's Oscar-worthy performance in the Emilio Estevez masterpiece Freejack.
Arabella Park is being taken over…by Town Brewery. They'll be pouring 12 of their beers including all of the recent 4th anniversary collabs, some core beers, and a few of their latest releases.
Friday, November 19
Alan Doyle (and his band) return to Kitchener and Centre in the Square for a live show at 8pm.
Dizzy plays Maxwell's — doors open at 7:30 pm.
The Button Factory Band brings their unique and heroic blend of comic, tragic, eclectic and subversive jazz to the Jazz Room at 8 pm.
The Culinary Studio has their Holiday Entertaining online cooking class at 6 pm.
We all love frozen appetizer packs, but it's time to add some new appetizer recipes to your repertoire. From perfecting the stuffed mushroom to highly addictive candied pecans, make a night of this with friends.
Saturday, November 20
Spectrum is hosting a virtual vigil from 3-5pm for the Transgender Day of Remembrance.
The Etsy Waterloo Region Market is today and tomorrow — all online. Get details on their site.
85Green at Kitchener Public Library presents Chef Venky Puranik who will guide you through a Diwali-inspired recipe. Presented in association with Underground Flavour Group.
You're invited to join in Voices Empower: Walk to Break The Silence, a self-directed 6 km walk to raise awareness and funds during Woman Abuse Prevention Month. Get a team together, wear your best purple outfit, and walk to show your support for women and children experiencing domestic violence.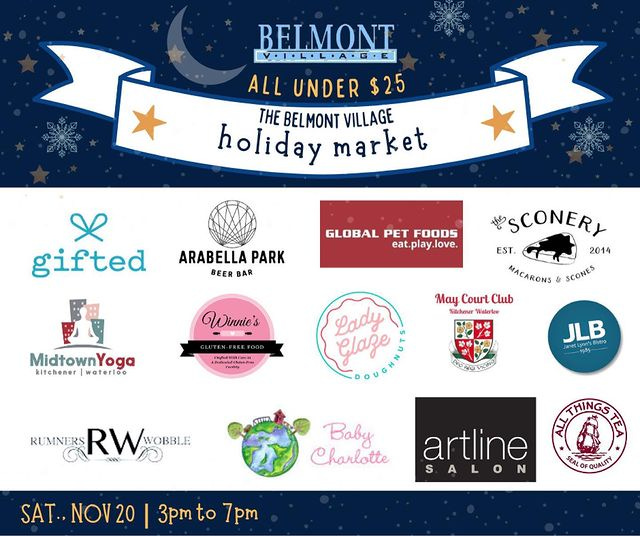 Head up (or over, or around - whatever) to Belmont Village for their Holiday Market from 3 to 7 pm.
Hopefully for the last time ever in this format, it's the Santa Claus Reverse Parade 2021 at the Aud starting at 10am.
Dwayne Gretzky is playing live at Maxwell's. Doors open at 7:30 pm.
Sunday, November 21
Rest for Restaurants is an exclusive event featureing culinary creations by four of the Region's most inspired and innovative chefs — Chef Teneile Warren of Nyam Revival Kitchen, Chef Zerka Mya of The Pulao Gals, Chef Thompson Tran of The Wooden Boat Food Company, and Chef Jon Rennie of BOX Wine and Provisions. Proceeds go to support Carizon's Hospitality Mental Health and Wellness Program.
Join the Laurier Percussion Ensemble for an in-person concert with Director Brennan Connolly. Sunday, Nov. 21 at 3 pm.
Apollo's Noirvember presents Who Framed Roger Rabbit at 2 pm.
Monday, November 22
The Princess has a screening of Spencer at 7:30 pm.
The Lanc's 10 year anniversary celebrations start on Monday with live music all week, free beignets, raffles, and delicious corn bread.
---
Ways to support local.
Keep tuned to Bar Rescue KW for updates on the Duke's re-opening on King Street (and other bar related news).
Check out Sweet Lou's Cookies on CTV (and on Weber Street)!
A post shared by Women Entrepreneurship Centre (
@laurierwec
)
Check out this post from Laurier's Women Entrepreneurship Centre for some great women-led businesses to shop from.
Club Pilates and Runner's Choice have a food drive challenge from Nov 15 to Nov 28. We like them both, so we hope there's a tie and everyone has to do pilates and then a 5k. Seems fair, no?
A post shared by Little Wolf + The Willow (
@littlewolf
.co)
Little Wolf + The Willow has partnered with a plethora of awesome local businesses for a new holiday gift box.
---
What to read.
Regional Hydro Companies To Merge (Community Edition)
Wildcraft Grill and Long Bar covers all the bases — with a kitchen that sweats the details (The Record)
Choosing between Star Trek and Ex Machina (Communitech Tech News)